Proudly serving Newton MA and surrounding towns.
Waban Dental Group offers dental emergency care for patients of all ages. We understand that dental emergencies occur suddenly, so do not hesitate to call. Our team is accommodating and ready to assist you with any dental concerns.
What Is A Dental Emergency?
Dental emergencies can vary among patients. Below are the most common reasons to seek dental emergency care.
Sudden and severe pain in your tooth or jaw
Excessive bleeding or severe inflammation of your gums
Any injury to your teeth or jaw
Knocked out tooth
An abscessed tooth
Damaged dental crowns, fillings, or implants
Damaged bridges or dentures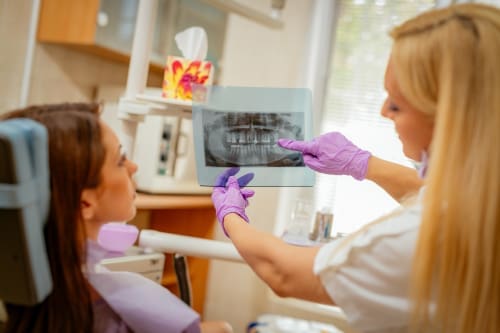 Severe dental issues should not be left untreated. For instance, infections and abscesses can cause worsening complications. Likewise, injuries to the teeth and gums must be addressed immediately. This is recommended for patients of all ages as every smile is essential.
Tooth and Gum Pain Remedy Until You Are Seen
Avoid touching your mouth. If you are experiencing pain and inflammation, cold or warm compresses can help. Gently rinse your mouth with warm water if you have a lot of bleeding.  Over the counter medication such as ibuprofen can help alleviate some of the pain.
What To Do If You Have Lost A Tooth
Retrieve the lost tooth if possible. Keep it in a glass of water or milk, and do not touch the root. Bring the tooth with you to the office as we may be able to save it. If not, tooth replacement options such as dental implants and bridges may be recommended.
Why Am I Experiencing Severe Tooth Pain?
Tooth pain is often a sign of an underlying issue. Commonly, tooth infections or an abscessed tooth can be the reason for pain. Oftentimes, root canal procedures are recommended to rid the tooth of bacteria and remove the pulp. Many patients may find a root canal intimidating but it is as easy and painless as receiving a dental filling. In addition, impacted teeth can cause discomfort to other teeth and the gums. For example, this could be the result of having wisdom teeth. Your dentist may recommend teeth extraction to remove the wisdom teeth and alleviate the pain.
Contact Us For Dental Emergency Care
Waban Dental Group offers dental emergency services to patients of all ages. Our office is well equipped to assist everyone and their unique needs. For instance, we offer pediatric, general, orthodontic, and cosmetic dentistry. Call (617) 527-6061. We happily accept new patients and many insurances.