Proudly serving Newton MA and surrounding towns.
Are you considering investing in braces as an adult? You're not alone! Today, as many as 50% of orthodontic patients are adults. Some are wearing braces for the first time ever, while others are fine-tuning areas of relapse that developed over the course of adulthood.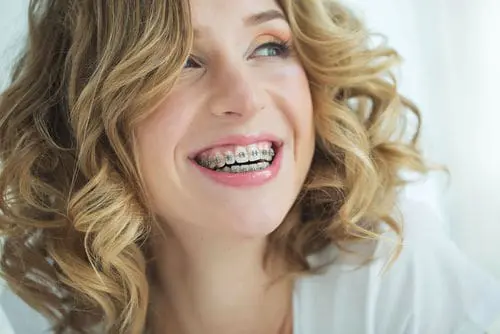 Popular Types of Braces for Adults
Depending on your preferences and personal needs, some of the most popular types of adult braces include:
Traditional Orthodontics — Fixed bracket and wire systems. Can also serve as short term ortho.
Invisalign or Clear Aligner Therapy — Invisible, transparent, removable trays.
Lingual Braces — Appliances that are tucked behind your teeth and out of sight.
Ceramic Braces — Like traditional orthodontics but made of tooth-colored materials.
Advantages of Being an Adult Orthodontic Patient
Adults are personally invested in their oral health. Being that you're the one taking the initiative and investing in orthodontic care, you have both emotional and financial reasons for wanting the process to be productive. That's why adults make great orthodontic patients! They're personally driven to achieve a successful experience.
As such, you're more likely to stick with the prescribed care plan, keep your appointments, and see to it that each phase of treatment is accurate. Now is a great time to finally give yourself straighter teeth.
Benefits of Getting Braces as an Adult
Reduce the Rate of Tooth Decay and Gum Disease — Misaligned, crowded, and crooked teeth are at a higher risk for cavities and periodontal infections.
Address Symptoms of TMJ Disorder — When teeth don't fit together properly, it causes your TMJ to function irregularly. Straightening your tooth alignment can address the cause of joint disorder and pain.
Prevent Premature Tooth Wear — Irregular biting patterns can lead to uneven and premature enamel wear. The result is flattened, short, or sharp teeth that will continue to wear down.
Enhance Aesthetics — Symmetry is a key component in dental aesthetics. If you're considering a smile makeover, aligning your teeth may be one of the best things you can do.
What About the Time Commitment?
The biggest concern for many adults is how much time will be required for getting braces. By working with a comprehensive care provider who offers braces in their practice, you can minimize additional referral visits or trips to separate providers. Thus, streamlining your overall oral health.
Depending on the type of adult braces you're wearing, you'll likely find that you only need to schedule a brief 15-20 minute appointment once every other month. This short visit is fairly easy to fit in before you head to work for the day, during your lunch break, or on your way home from the office.
Orthodontic systems such as Invisalign send the aligners home with you in advance, allowing you to progress treatment on your own. Characteristics such as this help to save time and streamline your experience.
How Long Will I Need to Wear Braces?
But what about the overall time commitment? How long will you need to wear braces to see the results you're looking for? This particular timeline is something that is determined on a case-by-case basis. The alignment of your teeth, jaws, and any co-existing conditions (such as tooth or bone loss) will come into play. On average, most adult braces cases are completed in an average of 12-18 months. "Cosmetic" teeth straightening — which is focused solely on the teeth at the front of your mouth — can be completed in as little as 3-6 months in some instances. Such short-term cases assume that the alignment of your back teeth is already moderately healthy.
Following your home care directions (such as wearing removable bands) will ensure your treatment is completed in a timely nature. To reduce the overall length of time you spend in braces, always follow your unique care instructions as directed.
Am I Too Old for Braces?
No, you're not. In fact, many of our adult braces patients are individuals who never had the chance to wear them as a child. Or perhaps they did have orthodontic treatment but experienced relapse as they got older.
It's not uncommon to see adult orthodontics patients in their 50s, 60, or beyond. Since orthodontic therapy is frequently recommended as a key component to other comprehensive care cases (related to TMJ disorder or gum disease, for example) you'll find that it's not simply a matter of "aging out" of the treatment.
Request a Consultation to Learn More
Investing in your smile's health and beauty is something you'll never regret. Request a zero-pressure orthodontic consultation to find out if you qualify for adult braces. Our orthodontic team would be happy to assist. Call (617) 527-6061. New patients are welcome.