Proudly serving Newton MA and surrounding towns.
Periodontal disease is the leading cause of tooth loss. It's also preventable and treatable. Therapeutic deep cleanings remove the source of infection to help you stabilize your oral health and preserve your teeth as long as possible. 
Scaling and root planing provides a deeper level of cleaning, focused on removal of disease-causing bacteria just below the gum lines. Unlike preventative cleanings, these deep cleanings are for treating active areas of disease around the roots of your teeth.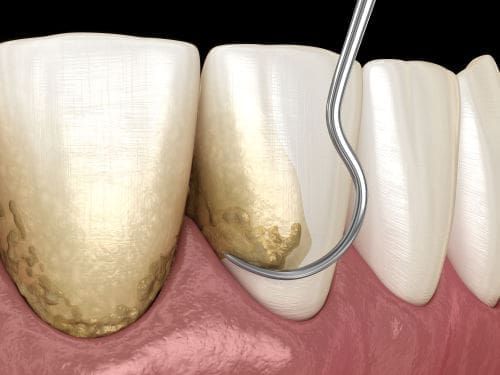 What is Periodontal Disease and How Does it Affect My Body?
Periodontal disease is the most advanced stage of gum disease. It's an infection that destroys the gum attachment and bone support around teeth. As you might guess, this can be detrimental to the stability of your bite. 
Active, untreated gum disease is also directly linked to a variety of medical concerns. It's thought that the strain on the immune system and oral bacteria spreading through the cardiovascular system (due to bleeding gums) significantly strains your body's ability to fight off infection. Numerous research studies have shown the more aggressive the gum disease is, the more likely someone is to experience uncontrolled diabetes, pneumonia, preeclampsia, infertility, erectile dysfunction, heart disease, stroke, and high blood pressure. 
Surprisingly, treating gum disease can also help to better control or even reverse some of these medical conditions within just a few months. 
Symptoms of Gum Disease
Gums that bleed easily
Receding gum lines
Spaces between teeth
Tooth mobility and loss
Heavy tartar buildup
Halitosis
Diagnosing Periodontitis 
Every tooth has a shallow "pocket" or sulcus around it. This small pocket area is where the gum tissues attach to the tooth root. Normally a healthy sulcus is up to 2-3mm deep and can be cleaned with floss. But if the area is infected due to plaque and tartar buildup, the gums begin to detach and create deeper pockets. Your dentist or hygienist will measure the pockets around each tooth to determine if disease is present. The deeper the pocket, the more aggressive the condition. Dental X-rays will also be used to assess the extent of bone loss that is present. 
If you have multiple deep pockets throughout your mouth, a scaling and root planing will be prescribed. 
What to Expect During a Deep Cleaning
A deep cleaning usually entails cleaning one side of your mouth at a time (you return to have the other side cleaned about a week or two later.) Special instruments are used to safely reach just under the gums and clean the tartar buildup off of the tooth roots. As the roots are scaled, the goal is to create a clean surface where the gum tissues can reattach to the tooth. When that happens, the periodontal pocket becomes shallower and easier to maintain, stopping the cycle of disease.
Keeping You Comfortable
Most people prefer to have their mouth numb during a deep cleaning. If that's the case, we'll use local anesthetic to ensure you're comfortable. Keep in mind that it can take a few hours for the numbing medication to wear off, so avoid eating or drinking anything until it does. 
Nitrous oxide sedation is also available. Happy gas is a light analgesic that makes you feel as if you've had a couple of glasses of wine. Although effective, it's also quickly reversible. That means there are no lingering side-effects, and you can safely drive yourself home after the appointment. 
Periodontal Maintenance
After your deep cleanings are complete, we'll want to periodically monitor your gums to see how they respond. More frequent cleanings (periodontal maintenance visits) are usually needed to help prevent disease relapse. For most people, the cleaning is scheduled every 3-4 months. But if your gums respond well and there are no areas of concern, we may be able to spread your visits back out to every six months. 
"But Gum Disease Runs in My Family"
Did your parents lose their teeth at a younger age due to gum disease? Then you may have a slightly higher risk of suffering from periodontal disease. The good news is that today's preventative care and therapeutic techniques make it possible to stop periodontitis before it leads to tooth loss. The key is to see your dentist for regular cleanings and exams, so that symptoms of gingivitis can be addressed as early as possible. 
Book a Gum Disease Screening Today
Healthy gums don't bleed when you brush and floss. If you're experiencing symptoms of periodontal disease, it's time to schedule an appointment. Gum disease treatments such as deep cleanings (scaling and root planing) can save your smile while there's still time. Reserve a periodontal exam today to find out if you're at risk.