Proudly serving Newton MA and surrounding towns.
Consider Invisalign clear aligners to straighten your teeth. At Waban Dental Group, we offer this revolutionary orthodontic treatment for teens and adults! In fact, many of our patients are choosing Invisalign for its discreet and effective quality. Patients often obtain results in 6 to 18 months. 
Learn more about Invisalign below and schedule your consultation with Waban Dental Group.
Straighter Teeth Can Lead To Better Oral Health
Misaligned teeth are known to cause many issues if they are not straightened. For instance, they can prevent you from cleaning your teeth well, which often leads to tooth decay and gum disease. 
To further explain, misaligned teeth make it difficult to brush your teeth effectively. Crowded and overlapping teeth are also difficult to floss. With Invisalign, your teeth stay healthy and you get a more attractive smile!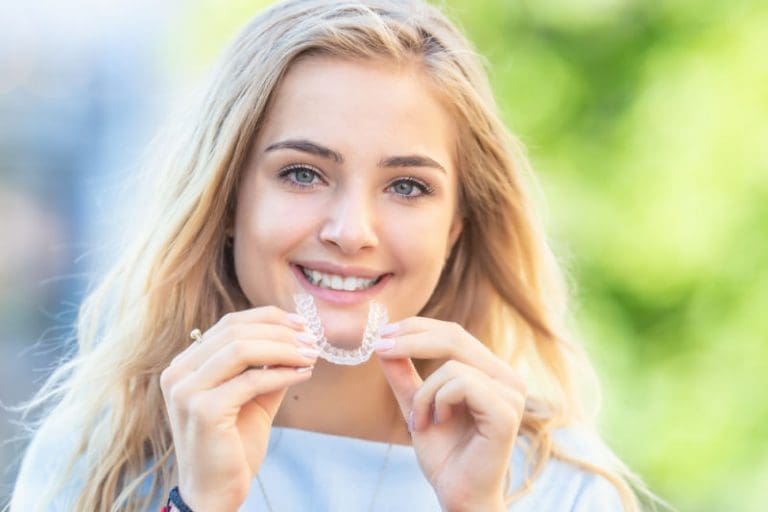 How Does Invisalign Work?
Patients wear custom-made clear aligners that are placed over their teeth. The aligners do not hurt, and are easy to remove for tooth brushing and eating. They are not easily noticeable and they do not restrict your diet. Each aligner is replaced every two weeks, to gently push teeth toward their optimal position. 
Moreover, the aligners are made with SmartTrack® material which is known for its comfort, durability, and effectiveness. Most patients see results in just 6 to 18 months! 
What Conditions Can Invisalign Treat?
Invisalign works well if you have mild or moderately misaligned teeth. They are also ideal for both teens and adults. An exam and consultation is the best way to find out if Invisalign is right for your smile. 
Invisalign can treat the following conditions:
Impacted teeth
Overbites
Crossbites
Underbites
Open bites
Teeth gaps
Invisalign Aligners Are Easy To Maintain
Invisalign aligners are easy to maintain. Each set is worn for about 2 weeks, then replaced with another set that pushes the teeth a little bit further into alignment. The aligners must be worn for at least 23 hours a day.  You can remove them when you eat.  After each meal, you must brush your teeth thoroughly before you put the aligners back in. This to prevent bacterial buildup and bad breath.
Will I Need A Retainer?
Once you are finished with the Invisalign treatment, you will need to wear a retainer to keep your teeth from shifting out of alignment. Invisalign offers a clear retainer. Additionally, your dentist will let you know when it is time to start using the retainer.
Schedule An Invisalign Consultation
Learn about Invisalign with a consultation at Waban Dental Group. We happily accept new patients and many insurances. Saturday appointments are available! In addition, our office is well-equipped with the latest dental technology to offer high-quality care. Our knowledgeable staff is ready to assist you and answer any questions you may have.