Proudly serving Newton MA and surrounding towns.
Protective nightguards are a special type of dental splint designed to protect your teeth while you're sleeping. If you've recently had a smile makeover or are prone to clenching and grinding, you'll probably want to invest in one. 
The appliance is similar to a sports mouthguard and covers the upper teeth. Crafted out of a semi-soft acrylic, it's just thick enough to add a cushion between the upper and lower teeth, hard enough to prevent biting through it, but not so bulky that it's uncomfortable to sleep in.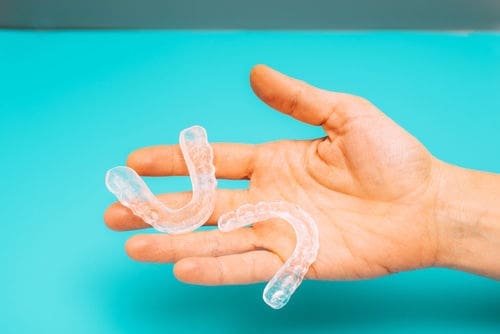 What is Bruxism?
Chronic teeth clenching and grinding is a condition we refer to as "bruxism." Often done subconsciously or even as a result of sleep apnea, bruxism causes intense pressure on the teeth and TMJ. Even though tooth enamel is the hardest structure in the entire human body, it's not invincible. When teeth are constantly clenching and grinding against one another, it will eventually lead to:
Premature tooth wear
Fractured teeth and dental work
Jaw pain and headaches
TMJ disorder
Gum recession
If you're not sure whether or not you suffer from bruxism, pay particular attention in the morning when you wake up. Are your jaws or teeth sore? Does your face hurt? Do you ever have bite marks on your tongue or cheeks? If so, there's a good chance you were grinding your teeth while you were sleeping. 
How a Nightguard Can Help
Nightguards serve two purposes. First, they prevent tooth-on-tooth damage. Since teeth can easily wear one another out by grinding themselves together, the nightguard takes the brunt of the force. Even if it wears out due to bruxism, it can easily be replaced. And most importantly, your teeth and dental work are left intact. 
Second, a nightguard helps to guide your jaw muscles into the correct position for relaxing. Ideally your lips should be touching but your teeth shouldn't. If your mouth is resting with your teeth clenched together, the TMJ and facial muscles are being activated when they shouldn't. The splint serves as a reminder for your joints to relax. 
Tooth Wear Related to TMJ Disorder, Headaches
TMJ disorder is sometimes attributed to joint overuse from clenching and grinding. It can also be caused by misaligned teeth, sleeping disorders, and trauma to the joint. If conditions go on for too long, it can lead to a disorder of the TMJ joints. 
Symptoms of TMJ disorder (TMD/TMJD) include:
Joint pain and stiffness
Limited range of motion
Popping and clicking in the joint
Earaches
Headaches and migraines
Instead of treating TMJ disorder with medications or surgery, a non-invasive method is usually best. Nightguards or even orthodontic therapy can both be extremely effective. 
Getting a Nightguard Made
If you think you need a nightguard, all you need to do is reserve an appointment to have an impression or scan taken of your teeth. Once we have a replica of your bite, we'll order the acrylic splint and have it fitted exactly to your unique bite. The customized fit allows for better protection while you're sleeping as well as improved comfort. Since it's snuggly fitted to every curve in your mouth, it won't feel bulky or uncomfortable like an over-the-counter type of splint does. Most nightguards are semi-transparent or clear. 
Daily Maintenance 
Like any type of removable appliance, you want to clean your nightguard daily. When you remove it in the morning, rinse it well with lukewarm tap water and clean it with a soft toothbrush. Don't use hot water, as it could cause the materials to warp. If you notice any buildup it's also fine to soak it in an effervescent denture cleanser for the day, then brush it again before you put it back in your mouth. In the meantime, store it in a dry case where no children or pets can get to it. 
Insuring Your Smile's Future
People who suffer from bruxism often don't realize it until the damage to their teeth is severe. During your exam we'll evaluate your biting patterns and muscles to screen for signs of clenching and grinding. But even if you aren't prone to bruxism and have had a smile makeover, we highly recommend in investing in a bite splint to safeguard your aesthetic enhancement. Especially if you've recently received several dental veneers or porcelain crowns.
Call Today for an Appointment
Tired of TMJ pain, headaches, earaches, or sore teeth? Call our office today to order a nightguard. Most of our patients see an improvement within just a few days of wearing their new appliance.