Proudly serving Newton MA and surrounding towns.
Full Mouth Restoration (or reconstruction) is an approach to care where we address everything related to the function and performance of your smile. Issues such as missing teeth or aggressive wear, for instance, can significantly alter your lifestyle. 
If you're suffering from embarrassment, are unable to eat a balanced diet, or are in pain due to chronic infections, then full mouth restoration is the best answer.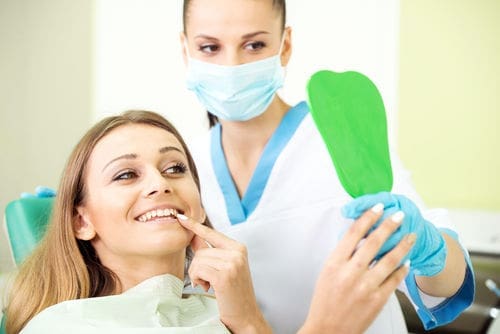 What's Involved in Full Mouth Restoration?
Instead of treating your dental needs on a "tooth by tooth" basis, we're looking at the bigger picture. How do missing or eroding teeth relate to the healthy ones on the other side of the mouth? Which fixed restorations will enhance both performance as well as the overall appearance of your smile? 
First and foremost, we want to establish a healthy oral environment. If you have aggressive periodontal disease, that may mean a series of cleanings or perhaps even extractions. If there are teeth with severe decay or abscesses, endodontic therapy and crowns may be required. 
As we plan your reconstruction case, we'll pair restorative and therapeutic treatments together. They work side by side, so to speak. Treatment is planned out in phases, with a care plan that outlines each step of the process. Typically, multiple appointments will be involved. 
Types of Treatment Used for Smile Restoration
Every smile reconstruction is planned independent of the next. The key is to tailor care to meet the health, lifestyle, priorities, and budget of the individual patient. That means you play a key role in co-planning your care and determining the next best steps to take. 
Depending on what your current position entails, we may recommend a combination of therapies such as:
Dental Crowns — Aggressive enamel wear, fractures, and decay can be impossible to repair with a filling. But a porcelain crown easily encompasses the entire tooth to distribute biting pressure. It's also matched from durable ceramics for an exceptionally attractive design. 
Bridges or Implants — Missing teeth not only alter the way you eat, but they can also contribute to TMJ disorder, irregular wear patterns, and movements in your other teeth. A fixed dental bridge or implant can fill in the open space. You'll be able to chew, smile, and speak as if you had a natural tooth there again. 
Dentures or Partials — Efficiently replace all of your missing teeth with a single prosthesis. Custom dentures and partials are designed for a personalized fit and optimal cosmetics. 
Endodontic Therapy — Abscessed teeth or those with severe decay can be preserved if endodontic treatment is delivered quickly enough. By sealing out bacteria and protecting the tooth with a crown, you can avoid the need for an extraction.
Gum Disease Treatment — A healthy foundation is key to a sound smile. If you have active periodontal disease, we can provide therapeutic deep cleanings to eradicate bacteria and stabilize your gum tissues. 
Composite Fillings — Tooth colored dental fillings quickly repair small areas of decay while blending in with your smile. 
Ensuring Your Comfort
Anxiety often stands between you and the smile you deserve. Nearly 1 in 3 adult have some form of dental phobia. If you're one of them, know you're not alone. Our staff will go out of the way to ensure a gentle and pleasant experience whether you need a simple filling or something complex like full smile reconstruction. Light dental sedatives such as nitrous oxide are available!
Paying for Full Mouth Reconstruction
If you carry dental insurance, our financial coordinators will check your coverage and tabulate how benefits relate to your necessary treatment. Scheduling care in separate phases can help you work with deductibles, co-pays, and annual maximums. 
Apart from insurance, you can also apply Health Savings Accounts/Flex Spending Account funds toward dental care. If you have one for medical purposes, you'll want to be sure to get that lined up as well. 
And finally, flexible financing is also available. Payment plans can be used independently or alongside of your existing insurance coverage. Depending on the situation you can even finance the treatment at 0% interest as long as you make a minimal monthly payment on it. 
Request Your Consultation Today
Perhaps it's been years since you've seen a dentist. You might even feel too embarrassed to talk to a dental team about your concerns. If that's the case, you've come to the right place. Our team is here to put your mind at ease and help you find the best path toward a healthy, beautiful smile again. 
Contact us today to reserve your first appointment and reconstruction consultation.