The First Dental Appointment For Your Child
The first dental appointment for your child is the starting point for building a life-long, healthy relationship with their dentist. Beginning at a young age may encourage children to visit the dentist more often when they get older. 
The first dental appointment is also an opportunity to identify any potential oral health issues. Dr. Matt will discuss these with you and the various treatment options available. 
When Should Children Have Their First Dental Visit?
The American Academy of Pediatric Dentistry (AAPD) recommends every child have their first dental visit soon after the emergence of their first tooth, and no later than 12 months of age.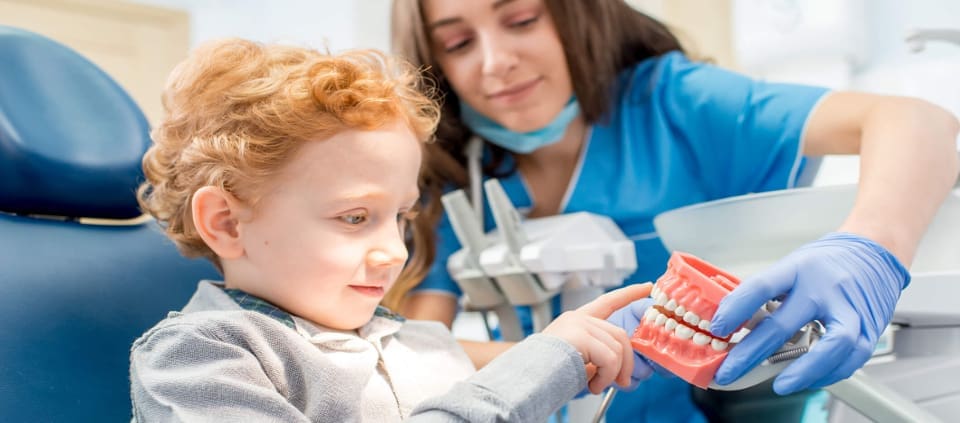 What Should I Expect At My Child's First Dental Appointment? 
Most infants or young children will cry during their first visit, so expect some tears and to help gently hold your child on your lap during the examination! 
Dr. Matt's goal is to conduct a thorough examination and to gently clean off your child's teeth. 
What Type Of Information Will We Discuss? 
Dr. Matt will comprehensively discuss your child's medical and dental histories, overall growth and development, and oral hygiene routine, provide fluoride recommendations, conduct dietary and cavity risk assessments, discuss any pacifier and bottle use, and more. Please be open about any questions or concerns.
Why See A Dentist At Such A Young Age? 
Dental caries (commonly known as dental cavities) is a preventable, yet common, early childhood disease. In fact, cavities are the most prevalent disease of childhood and are four times more common than asthma. 
Caregiver education and awareness are critical to the prevention of early dental disease. By establishing care with a pediatric dentist at a young age, you can develop preventative strategies and identify risk factors associated with the development of early childhood caries. Cavities are also much more manageable when diagnosed early in development. 
Pediatric dentists are also specially trained to identify oral and facial abnormalities that present in the early stages of child development. 
What Are The Benefits Of An Infant Oral Examination?
The main benefit of infant oral examinations is that they reduce anxiety about going to the dentist and prevent dental cavities. Dr. Matt puts your child at ease while demonstrating how to brush and floss their teeth properly to prevent unwanted treatment in the future.
Infant oral examinations also educate parents and caregivers about other infant oral health issues. Examinations provide valuable information on preventing common oral health problems in children, such as gum disease, teething, thumb sucking, and dental injuries.
Does Your Child Require An Infant Oral Examination? 
If you want professionals to check your child's teeth, Dr Matt at Waban Dental Group can assist. We have facilities to provide a thorough examination, letting you know whether oral health issues are developing, and giving you peace of mind. 
To schedule an appointment, call our team at (617) 527-6061 or book online.