Proudly serving Newton MA and surrounding towns.
Dental crowns — sometimes called "caps" — are protective restorations that fit over teeth. Their full-coverage design encapsulates the entire tooth up to the gumline, protecting the weak structure inside of it.
Pediatric dental crowns usually come in two designs: stainless steel or an aesthetic strip crown.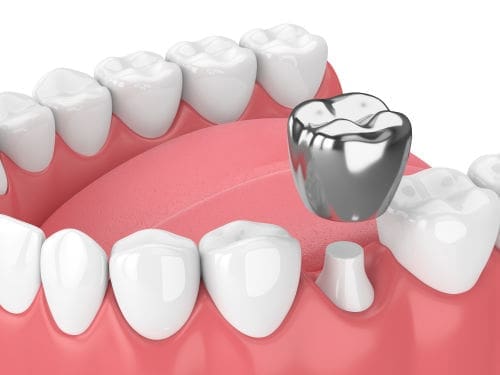 Why Does My Child Need a Crown?
Children's dental crowns are a necessity if there is:
Severe tooth decay
Recent pulp treatment/pulpotomy
Significant fractures in the tooth
A traumatic injury
Instead of placing a filling inside of the tooth, a crown covers the full tooth structure. They're necessary when the remaining enamel isn't strong enough to withstand everyday use. And since primary (baby) teeth are considerably weaker than permanent (adult) teeth, crowns are used more frequently when significant damage is present.
Without a crown over your child's broken or decaying tooth, it will continue to break down as time goes by. In turn, this complication will result in premature tooth loss, potential orthodontic concerns, and unnecessary pain for your child. Investing in a protective crown will help to prolong the health of their smile and assure appropriate oral development as permanent teeth begin to erupt.
Advantages of a Stainless Steel Crown
Stainless steel crowns are a temporary, affordable restoration. They work well for children in that they're straightforward to place and serve multiple purposes. If your child has an adult tooth that is erupting and needs a crown, a stainless steel crown can be used as an interim restoration until the tooth is fully developed and a ceramic one is appropriate.
Benefits of an Aesthetic Strip Crown
Perhaps your child has a damaged tooth that's located in the front of their mouth. In such instances you may be hesitant to have a stainless steel crown placed in that area. Aesthetic strip crowns are an excellent alternative. Like other pediatric crowns, these designs are temporary and more conservatively priced. The difference is that they can be matched to your child's adjacent teeth, making them less noticeable when they're smiling or laughing.
Even at a young age, the appearance of one's teeth can affect your social life and self-esteem. These crowns support your child when it comes to showing off their personality, helping them to avoid unnecessary embarrassment due to a dental injury.
Daily Home Care and Crown Maintenance
Dental crowns placed on primary teeth don't have the same tight seal along the edges or margins that a permanent crown does. In part, it's because they are more inexpensive and mass produced due to their temporary nature. As such, it's vital that you take extra care to clean them each day. The goal is to prevent recurring tooth decay from developing along their margins or underneath the new crown.
Brush your Childs teeth twice per day for two minutes at a time. Additionally, take care to thoroughly floss either side of each tooth, including the ones with the crowns on them. Since a floss pick may be more challenging to move around the crown without it catching, a strand of floss may be better. If you feel the string getting caught whenever you're sliding up the tooth, just pull the strand out through the side instead. Never force it out. Daily flossing is crucial to preventing new tooth decay.
Be sure to schedule regular six-month checkups as well. During your child's exam and cleaning, we'll evaluate their existing restorations (including their crowns) to ensure everything is hold up as it ought to.
Does My Child Need a Crown?
The only way to know for certain whether your child needs a crown is to have their tooth examined and an X-ray taken. By seeing into and around the tooth structure, we can determine the amount of damage or infection that's there. If the decay is minimal, a small filling may be all that's necessary. Aggressive infections may call for a pulpotomy in addition to crown treatment. We'll discuss our findings with you so that you can make an educated decision about your child's health.
Most pediatric crown treatments are completed in one appointment. Since nothing is lab-made, no impressions or second visits are necessary. Everything can be performed during the same visit, including other dental work that may be required.
Contact Us Today for an Appointment
Get the answers you need. We'll help your child get out of pain as quickly as possible. Therapeutic crown treatment is a wonderful way to preserve their smile for years to come. Contact us now to reserve an exam. Call (617) 527-6061 or request an appointment online.