Proudly serving Newton MA and surrounding towns.
How does thumb sucking or pacifier use affect children? More than most parents realize. The physical differences in children who have prolonged sucking habits are quite prominent from those who do not. Without gentle guidance, most children won't give up on thumb sucking or using a pacifier on their own (or at least until they're much older, due to social pressures.) That's why it's crucial for parents to help.
Changes to Oral Anatomy and Tooth Alignment
Anatomical Changes in Facial Bones — The palate (roof of the mouth) and mandible (lower jaw) can be permanently altered by prolonged pacifier and thumb sucking. Since a foreign body is in the mouth while your child's facial bones are growing at a rapid pace, they may actually grow in an unnatural direction. The result can be a narrow upper arch or too short of a lower jaw. In either case, complex orthodontics or early interceptive treatment will be necessary.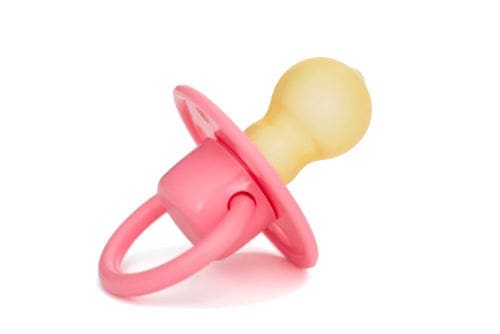 Overbites and Open Bites — Having something between your child's upper and lower front teeth for an extended time works almost like braces. Only not in a good way. The pacifier or thumb constantly being there actually guides your teeth into a less desirable location. It's common to see the front top teeth splayed out into an overbite. Or perhaps even more severe, the front teeth may not close together at all, due to an open bite. Open bites make eating and speech more difficult.
Speech — Misshaped facial bones and misaligned teeth can impact your child's speech development. When their jaws and teeth don't line up properly, their lips and tongue have to move irregularly to develop appropriate speech patterns. Speech delays or impediments are common.
Best Age to Stop Thumb Sucking and Pacifier Use
Ultimately the sooner your child can break a sucking habit, the better. It's extremely important that thumb or pacifier use stops before age 2. Since the weaning process can take weeks to months, it's best to start by around 18-20 months of age.
Positive Reinforcement
We find that the majority of children do best with a reward system. For giving up thumb sucking or pacifier use, set modest but achievable goals. Consider printing out a calendar and putting a sticker on each day that the child goes without sucking their thumb or finger. At the end of one week of no thumb sucking, they can earn a small reward. This might be an activity that you do together or even a small toy that they pick out beforehand. But ultimately you want to reach the point of going an entire month without thumb or pacifier sucking. If they make it a month, have a larger and more significant award set aside.
It's fine to start over whenever you need to. Your child may not get it perfect from the start. But once you finally reach a month without the thumb or pacifier, you're in a good place to prevent them from going back to it!
Tips to Help with Thumb Sucking
Pay attention to when your child sucks their thumb or finger. Is it when they're sleepy or when they go to bed? Maybe it's while they're cuddled on the couch watching television or waiting with you in the car line. Knowing when they tend to go to it will help you make a plan to distract them. Maybe you give them a small toy to play with or have a special pair of socks to wear over their hands. Some people will even tie a small ribbon (as long as it's not tight) around the socks to keep them from falling off. Mittens or gloves will also work.
Tips for Pacifier Users
Pacifiers are a bit easier to break from, as they're easily lost or taken away. But even then, the transition can be difficult for child and parent alike. Consider gradually weaning your child off of it to only certain points of the day. Some parents find that they can cut a small amount off of the tip of the pacifier, working up to a larger portion every few days. Having a pacifier that is "broken" is less appealing. Or maybe your child prefers to go cold turkey and give their pacifier to the Tooth Fairy, in exchange for a small prize.
Get an Expert Opinion
In rare situations our dentist can use special guards or appliances to help your child break their thumb sucking habits. However, these are usually reserved for more extreme cases or in much older children.
For support with your family's thumb sucking cessation plan, call our office at (617) 527-6061 or request an appointment online.