Proudly serving Newton MA and surrounding towns.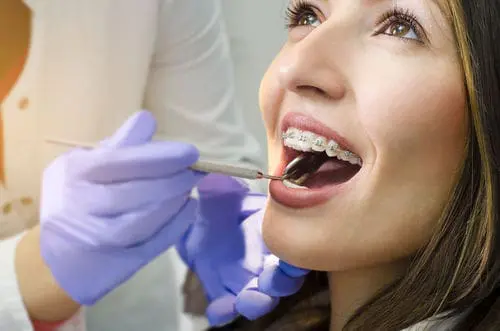 When Should My Child See an Orthodontist?
Orthodontists and dental specialists recommend that every child have their first orthodontic evaluation by the time they turn 7 years old.
Am I Too Old for Braces (Adult Orthodontics)?
No one is too old to enjoy a straighter, healthier smile. Approximately half of our orthodontic patients (especially those in Invisalign) are adults!
How Long Will I Need to Wear Braces?
The length of your time in braces depends on your oral anatomy, age, and how well you comply with your home care instructions. On average, most people complete their treatment in 12-18 months. We can provide you with an estimated timeframe at the time of your consultation.
How Often Will I Need to Visit the Dentist if I Have Braces?
Your orthodontic check-in visits are usually scheduled every 6-8 weeks, or every other month. They last approximately 15-20 minutes each.
Will I Need to Wear a Retainer? How Long?
Yes. Wearing a retainer helps prevent orthodontic relapse. You will need to keep a retainer on a permanent basis but will have to wear it less often as time goes by.
Does it Hurt to Wear Braces?
Braces work by applying pressure to teeth. As such, it is common to experience occasional soreness during adjustments. If there are irritating surfaces that bother your cheeks or lips, orthodontic wax can also be useful.
How Many Types of Braces are There to Choose From?
Most of our patients wear traditional braces or Invisalign. However, other lesser-known types of treatments do exist on the market (such as ceramic braces or lingual braces.)
Do I Need to See an Orthodontist?
Depending on the severity of your bite needs and the experience of your dental provider, you may be able to complete your orthodontic treatment at a general dentist's office.
What Can I Eat if I'm in Braces?
For traditional braces, avoid anything that's hard, crunchy, or sticky. They could potentially break or pull the appliances off of your teeth. If you're wearing Invisalign, just remove your trays and eat like normal.
Should I Get an Electric Toothbrush if I Have Braces?
Yes. Electric toothbrushes clean better than manual brushes. If you have orthodontic appliances, they are an excellent investment to make (given all of the extra places that need to be cleaned.)
Does Water Flossing Work Better Than Traditional Floss to Clean My Orthodontic Appliances?
Yes. Water flossers can easily be aimed in hard-to-reach spaces like between teeth, around brackets, and underneath orthodontic wires. Some even have different designs to make cleaning braces easier.
Are Braces Covered by Dental Insurance?
Many dental insurance plans do cover (at least partially) orthodontic treatment. Specific criteria must of course be met. Our financial coordinators will confirm your benefits and help you tabulate what out of pocket expenses will be involved.
Do You Have Orthodontic Payment Plans?
Yes. Most of our patients choose to make monthly payments and finance the cost of their braces. Low-interest and 0% financing options are available! Financing can be used independently of or alongside your existing insurance coverage.
Are There Health Benefits of Getting Braces?
Yes. Straighter teeth are at a lesser risk of developing tooth decay, gum disease, and contributing to TMJ disorder. If you find that you're at risk for any of these conditions, it can be worthwhile to invest in orthodontic treatment.
What Should I Do if a Bracket Comes Off or Something Breaks?
Orthodontic emergencies do happen from time to time. If you're in pain, contact our office right away. Rough appliances can be covered with orthodontic wax and an appointment scheduled in the next day or so.
Should I Wear a Mouthguard if I'm in Braces?
Yes. Athletes (whether recreational or competitive) should invest in a properly fitting mouthguard to go over their braces during practice and competitions. If you're wearing Invisalign trays just keep your aligners in and wear the mouthguard over them.
Why do Some Children Need Braces Twice?
Interceptive orthodontics (Phase I braces) help encourage proper oral growth and development before all of the adult teeth have erupted, or all of the bones fully formed. Then the child's bite is fine-tuned with a second phase of braces once they're a few years older.
Am I a Candidate for Orthodontic Treatment?
Most people qualify for at least some type of orthodontic or aligner therapy. A large percentage of our patients are adults. The best way to find out if you qualify for treatment is to schedule a consultation at our office. Call (617) 527-6061 or request an appointment online.